Why COVID-19 exhibits the longer term, not the tip of globalization
The COVID-19 pandemic shows us that global connectivity is not a problem, but a solution from which we can all benefit;
Despite the pandemic, globalization has proven to be far more resilient than expected. The DHL Global Connectedness Index 2020 suggests that the global level of global connectivity is unlikely to fall below the level of the 2008-09 global financial crisis this year;
As communities and economic sectors recover, the logistics industry must show the value of trade and globalization in combating this and future crises.
"Wave goodbye to the greatest era of globalization – and worry about what will replace it," The Economist wrote in May.
I've been a strong advocate of globalization for a long time, but even my own beliefs were temporarily challenged in 2020. A virus that knows no borders has "chopped off" the very basics of the way we live and trade.
How long will the governments hold the borders tight? Will these physical borders evolve into trade borders and will more governments try to keep trade results within their own limits? The shortage of essential supplies – such as personal protective equipment and ventilators – has sparked calls for change. We have heard voices calling for a return to domestic manufacturing and the renationalization of critical industries. We heard everything.
The idea that companies and their products should be treated equally regardless of their origin is under threat. If these and other thoughts spread, the trade will no longer flow freely. Countries will be less connected and the cornerstones of the trading world that we have become accustomed to will start to creak and crack.
Is this the end of globalization as we know it?
Hidden Opportunities

In any case, I am not convinced. This pandemic has shown us that global connectivity is actually not the problem, but the solution.
It's just amazing how quickly the world has adapted to a new being. Societies have largely managed to maintain normal lives because the goods have been delivered to our doorsteps. We stayed in touch with friends, family, and work through digital connections.
Thanks to global collaboration, we are getting closer and closer to the search for effective treatments and vaccines for this virus. Adaptable supply chains and access to the global market help us to cushion the economic effects.
The advantages of a networked world are visible everywhere. We have seen tremendous growth in cross-border e-commerce. Many companies with a global reach have positioned themselves significantly better in this crisis than those with a purely national or regional focus.
DHL Global Connectedness Index: encouraging signals

The truth is that globalization has proven to be far more robust than expected. This is proven by the newly published DHL Global Connectedness Index 2020, which was published in collaboration with the Stern School of Business at New York University.
After holding stable levels of global connectivity in 2019, it is expected to decline in 2020 due to the COVID-19 pandemic, but it is unlikely to drop below the level of the 2008-09 global financial crisis. Given the scale of the pandemic, this surprising resilience is something in itself.
How has COVID-19 affected the DHL Global Connectedness Index?
Image: DHL
While barriers and border closings have severely restricted global mobility, the new report shows that capital flows have already recovered; Trade has recovered strongly and the flow of digital information has increased.
We were still able to buy food and clothes and improve our homes and gardens. Entertainment services like Netflix and Amazon are thriving and we've kept in touch through Skype, Facetime, and Zoom.
The COVID-19 pandemic has been a setback for travel, tourism, and other flows, but that's not new. The attacks of September 11, 2001, the SARS virus of 2002, the global financial crisis of 2008, the ash cloud event of 2010 and the trade war between the US and China interrupted and blocked global exchanges, but they kept recovering. It seems that business is healing when it comes to world trade.
The way we all adapted in 2020 was amazing. Logistics companies like ours have played a vital role in keeping the world through this crisis. When the economies nearly closed, our industries kept going, literally oiling the wheels of trade.
The volume of goods traded showed signs of recovery through August
Image: DHL
When commercial flights were blocked by lockdowns, our specialists redesigned our network in just a few weeks. when the borders closed, our road transport experts found new routes; and when companies came back into action after forced plant closings, we made sure that they were in stock, that machines could start up again and production could continue.
Logistics will continue to play a vital role in helping the world contain this crisis. Who will manage the effective distribution of the vaccines when they arrive? Getting billions of doses of the COVID-19 vaccine to people around the world will take many thousands of flights and cool boxes. It requires local storage capacities and expertise in domestic logistics. It will take all of this and more – in large doses.
Harness the power of e-commerce

Logistics contributes to an essential continuity, but this crisis has hit many areas hard. Sports, live entertainment, and education have suffered massive disruptions, but the outlook doesn't have to be bleak. As I mentioned earlier, social distancing has driven digitization and e-commerce. Cross-border e-commerce in particular has enormous potential. It offers a new way to reach billions of additional customers.
I believe that many companies overestimate the complexity of shipping their products overseas. There are still hurdles, but getting a product to market on a global scale has never been easier.
The growth in internet traffic during the pandemic is a reflection of the e-commerce opportunity
Image: DHL
I am still surprised by the fact that of all the origin and destination country pairs, 25% are still with no registered trades. This makes it clear that many countries and businesses have yet to take advantage of greater connectivity, the potential for profits reaching trillions of dollars. By connecting countries and businesses to new markets, e-commerce can be a powerful engine for additional growth and prosperity around the world.
Reconnect for more resilience

As countries seek recovery from the effects of the virus, they will deal with economic hardship and political upheaval. Our industry must take a stand. We need to articulate the value of trade and globalization and explain how they can bring prosperity to disadvantaged communities and improve livelihoods and expectations around the world.
COVID-19 is the first global pandemic in more than 100 years and has spread around the world at an unprecedented rate. At the time of writing, 4.5 million cases have been confirmed and more than 300,000 people have died from the virus.
As countries rebound, some of the longer-term economic, business, environmental, social and technological challenges and opportunities are only just beginning to emerge.
To help all stakeholders – communities, governments, businesses and individuals understand the emerging risks and knock-on effects from the effects of the coronavirus pandemic, the World Economic Forum, in partnership with Marsh and McLennan and the Zurich Insurance Group, launched its COVID. launches -19 Risks Outlook: A Preliminary Mapping and its Implications – a companion for decision-makers, based on the forum's annual Global Risks Report.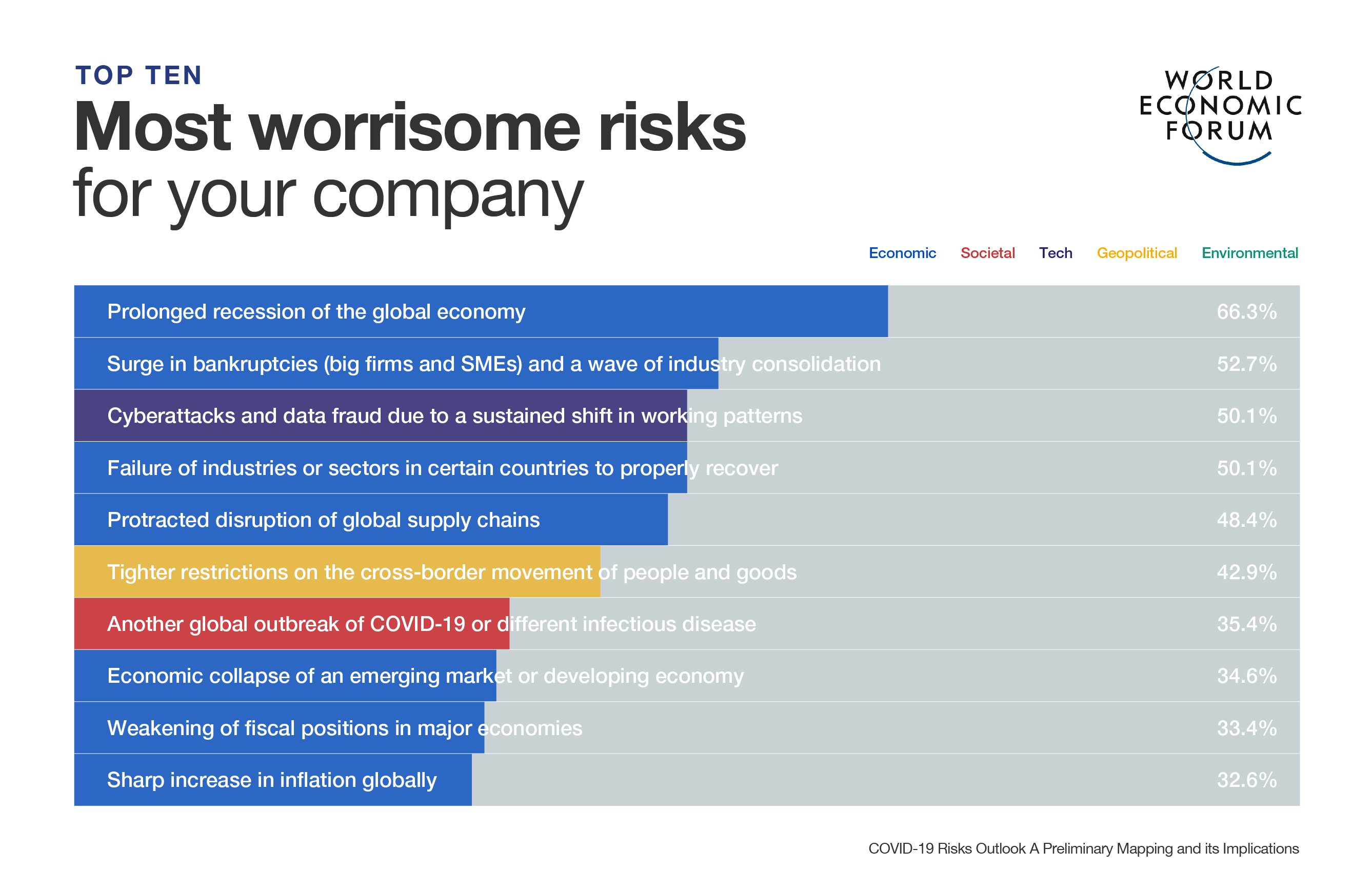 The report shows that the economic impact of COVID-19 is dominating corporate risk perception.
Companies are invited to participate in the work of the forum to address the identified emerging risks of COVID-19 across industries and create a better future. Read the full COVID-19 Risks Outlook: A Preliminary Mapping and its Implications report and our Impact Story for more information here.
Technology enables us to mobilize the planet's resources and bring together human ingenuity to combat this and future crises. Because of this, I believe the isolationist tendencies observed during this pandemic (though some would say inevitable) will be temporary. The way globalization works is changing, but it's still a long way from disappearing. This year's DHL Global Connectedness Index confirms all of this and more.
In fact, I still believe that 2020 will be remembered as the year the world realized how much our well-being depends on global connection and collaboration. Let us not see these changes as a lifeboat; Let us reimagine it as a growth rocket.
Written by
John Pearson, CEO, DHL Express, Deutsche Post DHL